DeWALT D25980K
Heavy-Duty Pavement Breaker with Cart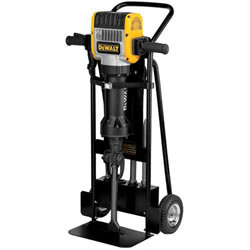 The DeWALT D25980K is one of our favorite DeWALT tool products. It's a Heavy-Duty Pavement Breaker with Cart. The D25980K comes with:
Pavement Breaker
Hammer Truck
Flat Foot Plate for Hammer Truck
Pegged Foot Plate for Hammer Truck
(2) Bull point chisels
(1) 1" Cold Chisel
(1) 3" Wide Chisel
The D25980K features:
61 Ft-lbs impact energy provides maximum performance
SHOCKS - Active Vibration Control reduces user fatigue and increases comfort and productivity
15 amp motor provides maximum power and overload protection
Rubber coated handles provide greater comfort and control
Electronic soft start increases productivity by reducing bit walking
Hammer Truck provides easy transportation of pavement breaker
Find out more about the DeWALT D25980K ...